Mass Times / Feast of St Bridget / Feast of Blessing of Candles / Feast of St Blaise / Lent 2023 / Confirmation / Funding for St Ita's Hall / Thank You / Live Broadcast.

Mass Times (Live via Church Webcam)

Mon: 7 pm (Also 11 am on day of Funeral)

Tue – Fri: 10am (Will move to 11 am on day of Funeral)

Saturday:  6.30pm Sunday Vigil

Sunday: 10 am  and  12.00 noon.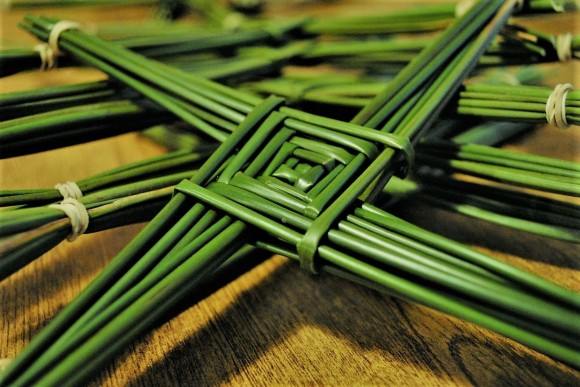 Feast of St Brigid Wednesday 1st of February 2023
Wednesday, 1 February, is the Feast of Saint Brigid, Abbess and Secondary Patron of Ireland. Saint Brigid is renowned for her hospitality, helping the poor and care of the sick. Saint Brigid was born in Faughart, Co. Louth in 454. When she was young her father wished to make a very suitable marriage for her, but she insisted on giving her life to God. She received her formation from St Mel in Ardagh, Co Longford. Other women followed her example and Brigid went on to found a double monastery in Kildare with the assistance of Bishop Conleth. The Saint Brigid's Cross, in legend used by Brigid to explain the Christian faith, remains a popular sign of God's protection. Many families traditionally make a St Brigid's Cross for the feast day and pray to St Brigid for God's blessings as we enter the season of Spring.  Mass for the feast of St Brigid will be celebrated on Wednesday 1st Feb. at 10.00am. During the Mass St Brigid's Crosses will be blessed.
.
Feast of the Presentation of the Lord (Blessings of Candles).
Thursday 2nd of February Mass at 10.00am. During the Mass candles will be blessed in remembrance of Simeon who recognised Christ as a 'Light to reveal God to the nations'. Traditionally candles are blessed on this feast day. (Candlemas Day).
.
Feast St Blaise Friday 3rd February (Blessing of Throats)
St Blaise was bishop of San Sebastea in Armenia. Tradition states that he was a physician before becoming a bishop. Since the eight century he has been venerated as patron of those who suffer from disease of the throat. Blessing of throats will take place after Mass on Friday 3rd February at 10.00am. St Blaise was martyred in 315.
.
Ash Wednesday marks the beginning of the season of Lent. This year Ash Wednesday is on the 22nd of February. Mass at 10.00am and at 7.00pm
.
The Sacrament of Confirmation will be celebrated by Bishop Brendan Leahy on Friday 10th of March 2023
.
.
Funding for St Ita's Hall:
€300,000 in funding has been approved for the renovation and upgrading of St Ita's Community Hall, on Convent Street.
We are delighted to announce that following several months of collaboration between a small group of representatives from Abbeyfeale Parish, Abbeyfeale Community Council, West Limerick Resources, and Foróige West Limerick, our application has been approved for the funding needed to undertake major renovation works to revitalise St. Ita's Hall, as it approaches its 100th birthday. The national application process was highly competitive, with a large number of applications, but our collective community-style approach in preparing the application has led to its success. The Hall has been and continues to be a central location for our Community, for a wide range of activities and service delivery, catering to all ages.
Huge Thank You to all Elected Representatives who supported this Application while making its way through the evaluation process.
Funding was approved by the Department of Rural and Community Development (DRCD), under its Community Centres Investment Fund (CCIF) which was announced earlier in the year. The fund is being managed and administered by Pobal on behalf of the Government.
Details on when renovation works are expected to begin will be announced in due course.
.
Thank You:
Sincere thanks to all who continue to support the parish financially. Your contributions are appreciated very much and will help us to meet ongoing expenses. We would also like to make parishioners aware that they can now contribute to the parish through the DONATE button on this website. Your generosity to the parish is important and we are grateful for your continued support.
Welcome everyone to Live Broadcast from Church of the Assumption,

Abbeyfeale, County Limerick. Please note that the Sound System is normally only switched on during Mass Times and other selected events. The quality of Live Broadcast you receive is totally dependent on the overall quality and speed of the Internet connection along with other factors. Adjust the "Volume" on your device in order to enjoy a better Broadcast. Thank you for watching - wherever in the world you may be.