Sacraments and Funerals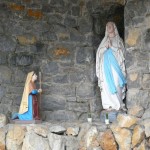 Celebrating the sacraments is at the core of our parish life.
Our big moments in life are marked in a solemn way from womb to tomb.
Here we provide all the details for the celebration of the sacraments in our parish.
Funeral Arrangements
To arrange a funeral ceremony please contact  the Parish Priest (087) 970 82 82. The local Undertaker is James Harnett (087) 250 09 29 who will help you with the arrangements.
Baptism Arrangements
Baptism is celebrated in our parish at the following times
Saturday @ 5pm
Sunday @ 1pm
Please give adequate notice to ensure preparations. Times can be arranged by calling to the Sacristy at Mass times.
Read more about dates and the Sacrament of Baptism
Marriage Arrangements
Congratulations on your decision to get married.  For details on all aspects of your Church marriage arrangements and preparation please click on the link below.
Read more about arrangements and the Sacrament of Marriage
Confirmation 2016

Confirmation is celebrated each year in our parish. This year's date for Confirmation is Friday 22 April 2016.
Young people wishing to receive the Sacrament are asked to participate in "You will be my Witness Parish Programme"
Read more about dates and the Sacrament of Confirmation
Eucharist and First Communion 2016

First Communion ceremonies usually take place on the Third Saturday of May. This year's date for Communion is Saturday 21 May 2016.
A programme of preparation takes place throughout the year. For dates and details please click below.
Read more about dates and the Sacrament of Eucharist
Reconciliation (Confession)
Sacrament of Reconciliation (Confession) takes place: after 11am Mass and @ 6.40pm on Saturdays
On Thursdays before First Fridays and on request.
Read more about the Sacrament of Reconciliation
Housebound and Sacrament of the Sick
Every First Friday of the month, the priests visit the housebound with Holy Communion. If you are unable to attend Mass due to illness or frailty and would like to be visited by a priest on the First Friday, please feel free to contact Anne in the Sacristy (068) 519 15 to be included on the First Friday visits or to any of the priests.
Read more about the Sacrament of the Sick

Holy Orders – Ministry of the Priest
If you have an interest in finding out more about the path to priesthood or the permanent diaconate in this diocese, you are very welcome to contact our Diocesan Vocations Director. Click below for details.